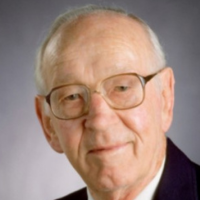 January 24, 2022
It is with great sadness that we announce the passing of Professor Emeritus Paul A. Libby, from the Department of Mechanical and Aerospace Engineering at the University of California San Diego, passed away on Nov. 2, 2021, at the age of 100 in La Jolla, Calif. An international expert in turbulence and combustion, Libby was recruited in 1964 by Professor Stanford "Sol" Penner as one of 10 founding faculty members of the Department of Applied Mechanics and Engineering Science (AMES) at the newly formed campus in La Jolla.
Beyond the impact of his own personal research, as one of the earliest faculty members in the Department, Libby played a key role in building a Department and School with deep roots in the engineering sciences, thereby providing our students with the skills they need to make critical contributions in their chosen application areas; as a result, his legacy will continue to be felt for many years to come.  
During his 65 years of research in the field of aerodynamics, Libby made foundational contributions to the fields of supersonic and hypersonic flight, with important applications that include improved heat protection of re-entry vehicles through ablative shielding. He collaborated in the fields of fluid mechanics and combustion with an impressive array of prominent scientists in the United States and abroad. He also served as the U.S. member of the Fluid Dynamics Panel of the Advisory Group for Aerospace Research and Development (AGARD), an agency of NATO, and on other U.S. governmental panels.   
He was elected to the National Academy of Engineering in 1999 "for contributions as a researcher, author, and educator who advanced knowledge of fluid dynamics, turbulence, and combustion through theoretical analyses."  
Libby produced more than 200 journal publications and authored a monograph on turbulence, publishing his last paper in 2017 with his longtime collaborators Professors Michel Champion of the University of Poitiers, France, and K.N.C. Bray of the University of Cambridge. This collaboration led, among other things, to the highly cited Bray-Champion-Libby model of turbulent combustion. In addition, the Homann-Libby flow is named after Libby for his work on the axisymmetric stagnation point flows. These contributions aid in the development of improved aircraft and missile propulsion engines as well as ground-based industrial and transportation processes.  
Libby received a Guggenheim Fellowship in 1972 and a Royal Society Guest Fellowship in 1982, both to support extended stays at the Imperial College of London as a visiting researcher.  
At UC San Diego, Libby held various administrative positions, including Associate Dean of Graduate Affairs, Acting Dean of Graduate Affairs, Chair of the AMES Department, and Interim Dean of the Engineering Division. He taught graduate and undergraduate engineering classes and served on numerous academic committees, including the UC San Diego Design Review Board. Throughout his career, Libby also enjoyed mentoring graduate students and became lifelong friends with many of them.  
Libby was born on Sept. 4, 1921 in Mineola, New York. He received his degrees from the Polytechnic Institute of Brooklyn, a bachelor's degree in aeronautical engineering in 1942 and a Ph.D. degree in applied mechanics in 1949. Libby also worked as an apprentice engineer with Chance Vought Aircraft and served as an officer in the Navy Bureau of Aeronautics.  
In the 1950s, Libby was appointed to the faculty of the Polytechnic Institute of Brooklyn, where he became a tenured professor, collaborating with Professor Antonio Ferri on the development of experimental supersonic and hypersonic research facilities. This effort involved an extended collaboration with Theodore Von Kàrmàn, a leading figure in 20th century aerodynamics, at the California Institute of Technology.  
Outside of his academic pursuits, Libby was an avid tennis player, retiring from tennis only in his eighties, and an excellent cook. He was a lifelong enthusiast of gardening, classical music, modern architecture, history, and politics.
Libby was preceded in death by his wife Petrina, and is survived by his son John Libby, daughter Patricia Libby Thvedt, and numerous grandchildren. 
In Memoriam 
A memorial organized by Libby's family will take place from 2 to 5 p.m. Saturday, March 5, 2022, at the Ida and Cecil Green Faculty Club on the UC San Diego campus. RVSPs due by Feb. 18, 2022 at  Libbymemorial@gmail.com. Guests must be vaccinated and boosted.  
The family has requested that remembrances be made in the form of contributions to the UC San Diego Foundation fund designated as "The Dr. Paul A. Libby and Petrina M.C. Libby Endowed Scholarship in Engineering at UC San Diego."  Donations may be made online at https://giveto.ucsd.edu/giving/home/gift-referral/4e375052-6bd8-4ba3-8c70-b2ac42fde0d5/, or by calling UC San Diego Gift Processing at 858-534-4493, or mailing a check (made payable to the UC San Diego Foundation) with "Libby Endowed Scholarship (Fund No. 7230)" on the memo line to UC San Diego Gift Services, 9500 Gilman Dr. Mail Code 0940, La Jolla, CA 92093 - 0940.  Gifts may also be made in Libby's memory to his beloved KUSC Radio at KUSC.org
 
Elizabeth H. Simmons
Executive Vice Chancellor 
Albert P. Pisano
Dean of the Jacobs School of Engineering
George Tynan
Chair, Department of Mechanical and Aerospace Engineering